The recent few years are marked with significant changes for a relatively stable market of wood briquettes. Traditionally 80 to 90 percent of briquette production from the Baltic States and Poland was exported to Germany, Denmark and some other countries in smaller volumes. Although quite large number of active producers and existing symmetry on buyers' side, natural competition set the current market price. Being know and tested product, briquettes remained a preference by many domestic consumers. First major distortion of market was the dramatic steady and prolonged increase in price of transportation. Next major power changes in local demand for raw materials – the sawdust in this case. Both factors have negative net effect to the position of producer in terms of competition.
The winter season in the last 3 years in Europe has been shorter (hence less kilowatt hours of warmth generated) and warmer (hence less kilowatt power generated). In effect, the net volume of wood briquettes consumed – shrank. Overall market demand became even more sensitive to price, because longer storage and added final delivery logistic cost are now also higher. Some countries, like Germany, traditionally a larger Biofuel consumer and producer, were put in the position to increase its exports as well.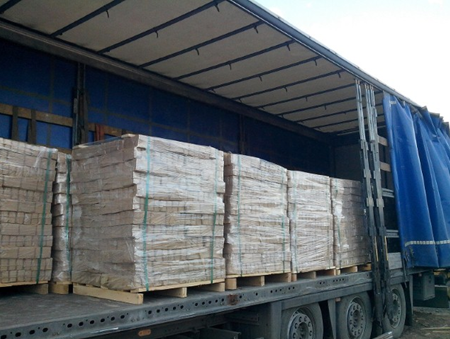 Special and sector sanctions imposed to Russia and later, Russia's sanctions against European Union have resulted in complete shift of major transport fleet regular flow. In mid year 2013, a lot of traffic was due to exchange of goods between Moscow and Italy, also the Benelux and S. Petersburg, Scandinavia and Germany to Russia in general. Later that year, together with the ban of various food products, empty trucks simply had no cargo to pickup and carry it to Russia. This ended up in increase of freight price to export wood briquettes From the Baltic States and Poland to Western Europe. In regular terms, the prices for exported freight rose by some 20 to 40 percent, and vice versa: the returning trucks are paid up to 60 percent less than regular.
Uneven distribution of trucks to and from Western Europe has caused the necessity to increase selling price of wood briquettes from some 35 to 55 €/t for the end buyer.
Second large trouble for producers is the increase of price in local sawdust market. As the municipal heating service is buying more each year, the sawdust price must stay completive to ensure sufficient volume supply.
In combination, these two forces can be a fore cast, that in the near future, more producers will orient their major capacity for local usage, leaving the export as side activity for less demanding seasons. In longer term, this should bring back the generally actable wood briquette price level.
http://www.biodela.com/rufbriquettes.php